AWARDS OFFERED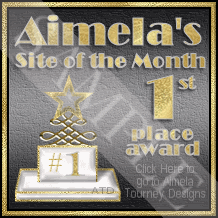 To apply for an award, please
email
me with the following:
Your name, or the site owners name.
Your e-mail address where you can be contacted.
The website link (note: may not be 'under construction')
Web site name and description.
A few sentences on why you feel the site deserves an award.

---

SITE SPONSORS




For every 10$(us) donation you will be featured on my main page
with a link back to your site for 1 month.
You will also be listed on
this
page for 3 months per donation as a Site Sponsor.
(As long as it is family friendly and non-hate site.)
*As a sponsor you are of course excluded from holding any responsibility to ATD.*
Becoming s Site Sponsor does NOT include purchases of tourney pages.
I have the right to refuse promoting a site if I feel it does not meet certain standards.
If in the rare case that I do refuse your site you will be promptly refunded your money.
All other monies received as a donation cannot be refunded for any reason.